tate-of-the-art plants for maximum production, energy and environmental efficiency;
Research and Development with cutting-edge laboratories;
Digitalisation of production and management processes;
Staff training, safety and welfare;
Obtaining and maintaining internationally recognised certifications in the areas of environment, safety, energy, quality, sustainability and ethics.
| | | 2020 | 2021 | Var % |
| --- | --- | --- | --- | --- |
| Turnover | € | 877,446,000 | 1,217,250,000 | +39% |
| Investments | € | 57,843,000 | 62,973,000 | +9% |
| EBITDA | € | 121,118,000 | 174,641,000 | +44% |
| Amortisations | € | 43,405,000 | 60,512,000 | +39% |
| Net profit | € | 53,507,000 | 85,376,000 | +60% |
| Cash flow | € | 103,106,000 | 145,890,000 | +41% |
| Total employees | N° | 3,334 | 3,548 | +6% |
| Italy | N° | 1,879 | 1,978 | |
| Overseas | N° | 1,455 | 1,570 | |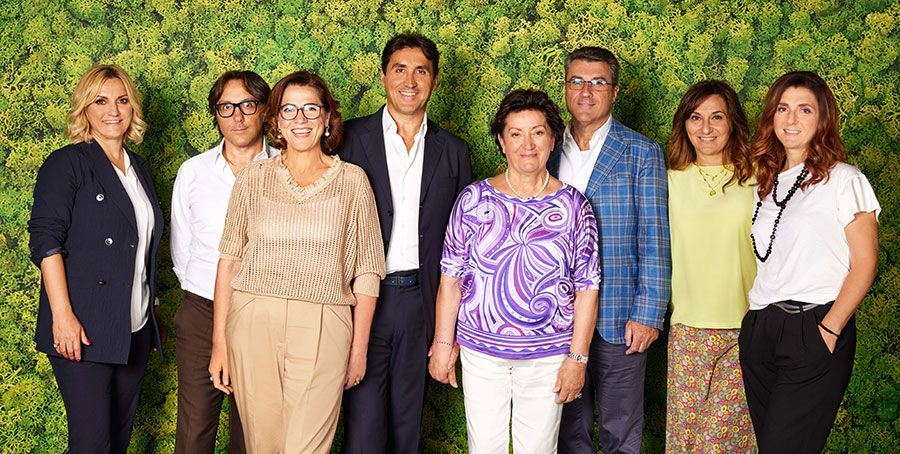 THE STRATEGIC LINES OF SILMAR GROUP:
1) ESG
The structured sustainability path has made it possible to get ahead of the times by proactively responding to the needs of its stakeholders in terms of ESG (Environmental, Social, Governance). Companies have been reporting their performance on a voluntary basis for over a decade in line with the international GRI indicators.
2) CORPORATE WELFARE
Silmar Group companies have always paid great attention to their collaborators, which is why significant investments are destined for training, welfare, health and safety. Companies have adopted a welfare plan offering work-life balance benefits and increasing the spending power of employees and their families. The Group recognised a bonus for employees in relation to the achievement of company results in terms of safety, production efficiency and energy saving. Employees have increased by + 40% since 2010, becoming a pole of attraction for the best talents in the area and beyond.
3) CORPORATE SOCIAL RESPONSIBILITY
With the belief that businesses grow in parallel with the territory and the social fabric where they are located, Silmar Group companies continue with their social responsibility plan, supporting worthy projects that promote social, sporting, cultural and artistic growth in Brescia and its province. The Silvestro and Margherita Niboli Fund, set up in 2020 within the non-profit organisation Fondazione Comunità Bresciana Onlus, wants to pay tribute to the founders' vision, from which it takes its name, by handing down their heritage of values and strong attachment to the territory. Since 2020, projects with a total value of around €1,300,000 have been supported.
4) 4) DIGITISATION AND CONTINUOUS IMPROVEMENT
Constant investments are intended for the continuous technological evolution of plants and manufacturing, environmental, energy and IT security processes.
5) 5) ENERGY TRANSITION TOWARDS CLIMATE NEUTRALITY
In line with the new European directives aimed at achieving climate neutrality by 2050, Silmar Group companies have implemented numerous projects aimed at energy transition. The industrial plan will bring the Group's companies to zero CO2 emissions by 2050.
SILMAR GROUP: EVOLUTION FORECAST 2022
The socio-economic landscape of the first half of 2022, with energy and commodity prices at historic highs and distortions in supply chains on a global scale, generates a climate of uncertainty and inability to make medium- to long-term forecasts.
The sectors within which Silmar Group companies operate maintain a lively demand, even if a contraction is expected in the second half of 2022 due to rising energy commodity prices and critical issues along the respective supply chains.
All the Group companies, thanks to an entrepreneurial vision focused on change and continuous improvement, combined with financial solidity, have decided to anticipate the energy transition, through:
continuous efficiency enhancement of facilities and plants;
research and development of new green energy mixes;
investments in renewable energy in self-production and self-consumption;
development of sustainable, circular and low-carbon footprint products.
This shared strategy will lead companies to both decrease dependence on fossil fuels and offer a competitive advantage along the supply chains by lowering the share of CO2 to end customers.